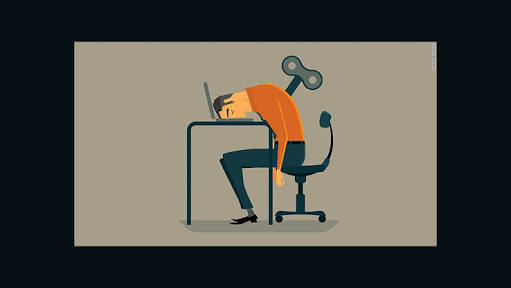 Do you get an urge to sleep at work?
It is always good to have a real quick sleep at work after lunch. When I say it's good, I am referring to the 15-30 minutes nap. A Good Sleep plays an important role in finalizing a person's success in career and in life.
Pic Source: i2.cdn.cnn
Companies in Japan had initiated sleep at work policy to encourage their employees to take a quick nap after lunch. Short sleep at work after lunch is proven to increase the productivity of the employees.
Besides, it is very normal for people to sleep off when they are dog tired but not all the times.
Remember that too much of anything is good for nothing. If you think that your sleep pattern falls into the abnormal category then it is time for you to dig on to it to find the root cause and take necessary actions.
Lack of sleep during the night can be because of Insomnia, Sleep Apnea, Parasomnias etc.
Reasons why people sleep at work:
Due to lack of interest towards the job.
– This is one of the major reason why people get bored at the office, in turn, sleep at work.
– Due to routine boring tasks.
Due to lack of opportunities.
– There are times when we would be totally free with very less to no work. For example, software professionals who support their clients abroad usually receive lesser work during Christmas holidays.
– People with underactive thyroid are most likely to sleep during the day due to lethargic nature.
– Hormonal imbalances.
Due to lack of sleep during the night.
– It is highly recommended to get at least 6 – 8 hours of sleep.
– Sleep Deprivation leads to fatigue during daytime, anxiety issues, depression and more.
Due to Narcolepsy in other words sleep attacks which are known to occur during the day might also be the reason why you sleep during the day.
Due to heavy workouts & stress.
– Beginners who hit the fitness centers are more likely to sleep at work due to body pains.
Due to excessive consumption of meals during lunch.
– Tasty food items lure people with great taste buds. Ha.. ha.. ha.. just kidding. But, it's true that people who consume rice in large quantities sleep off during the day.
Due to lack of brain chemical Dopamine.
– The release of brain chemical Dopamine is responsible for the human to get Motivated.
Due to an intake of certain medications.
– For example, pills like Cetirizine and cough syrups like Benadryl.
How to avoid sleeping at work?
Sleep well during the night. Ensure that you get adequate sleep.
Cut down on sugar intake.
Turn off or stay away from your cell phone at least an hour before you go to the bed. It is proven that the blue light from the mobile devices leads to sleep disorders by affecting our eyes.
Tip: There are apps like Twilight which helps to arrest blue light which gets emitted from the mobile screen to some extent.
Do not overstuff yourself with food items. Know your limits.
Interact with people around you. Building networks at the workplace can help in a great way in our career.
Keep yourself occupied with activities like reading books, listening to good music, write about something etc.
Speak to your manager for additional responsibilities whenever you have the bandwidth.
Get involved in extra curricular activities and events at the work place. For example, events like Toastmasters, code hackers etc. would not only keep you occupied but also gives you a great exposure.
Call your friends in other companies over the phone and say "Hi".Utilize the time to stay in touch with your friends and ex-colleagues instead of sleeping.
You can also refresh yourself by playing games on your mobile with your friends. Games like 8 ball pool, Asphalt, clash of clans etc can be played on a multiplayer mode. This will just help you to refresh yourself and keep you away from sleeping.