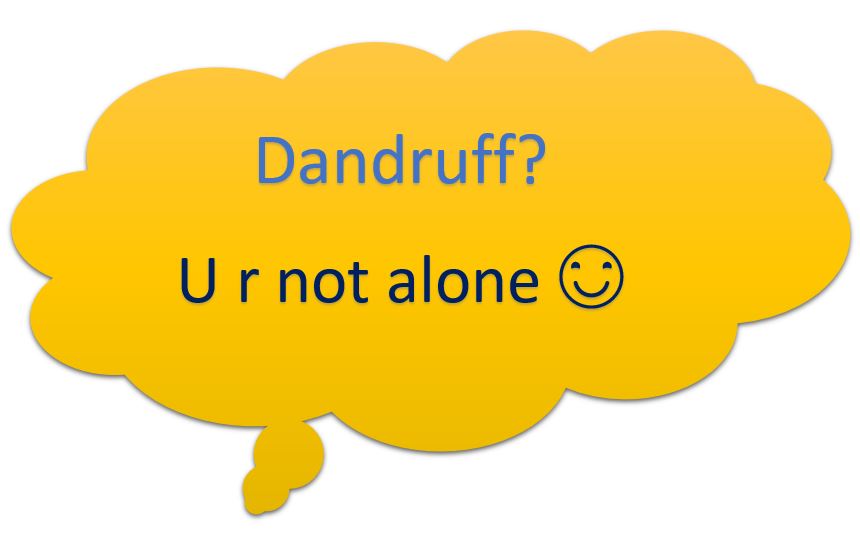 Dandruff Problems?
Yes, you are not alone if you are trying to get rid of dandruff.
I do not want to beat around the bush discussing the regular queries like,
What is Dandruff?
How does it look and what are the different types etc.?
Instead, let me just keep it simple by sharing an approach which I had tried to control Dandruff.
But, before that, if you have a question like the one below, just to refresh
How to get rid of Dandruff Permanently?
A great and a very familiar question of most of the people including me. The best answer would be "I don't know yet". I had realized that it is better I start to control Dandruff rather than trying to find a permanent solution.
What causes Dandruff?
People with Dry skin as well as oily scalp are prone to it.
Anxiety / Stress
Poor Hygiene – How frequent you wash your hair?
Poor Diet
Exposure of hair to extensive hot/cold air
HIV
Illness
Sensitiveness to Yeast
Some styling Gels and Creams
How to control Dandruff?
Wash your Hair at least twice in a week.
Don't let your scalp dry again.
– Keep your hair healthy by applying Coconut / Almond oil at least once in a week, may be during night time if you are uncomfortable going to work with well moisturized oily hair.
Comb your hair regularly.
– Gifting your healthy hair for the lice and bugs to build their sweet home is not a good idea.
Use the shampoo which really works for you.
Use your own head wraps and comb always.
– Please don't be generous in gifting your Dandruff to Others.
Get rid of Anxiety / Stress.
– Eating Oat Meal really helps in handling Anxiety issues. You can also try hitting the gym it really helps to get rid of stress. Both these combinations would do wonders.
Change your Pillow covers once in a week or two.
Wash your head wraps regularly.
– Try using two head wraps in a week alternatively.
Based on the severity, consult a doctor.
Don't forget home remedies, it works.
You would have already read about a handful of suggestions on home remedies and anti-dandruff shampoos on the internet. But, the one natural way I had tried and could control Dandruff is with the help of a Shallot (small onion) paste.
Source: Studiokitchen
My experience with Shallots…
This dehydrated natural product had really done wonders for my hair.
A Big Thank You to my Friend for letting me know about an unknown information about Shallots.
You can convey your Thanks to me later if it really worked for you.
Ah! Forgot about an important Fact.
My Lord! My God! help me not to forget things.
Dear Reader, you know it better.
This remedy, which I am sharing in this post worked for my Friend and for me. Yes, really did.
Note that, it does not mean that it would work for everyone. But, at the same time, without giving it a shot you will never know whether it will really work for you or not.
Are you ready for the ride?
Alrighty Then…
The total time you might need to spend on this method to get rid of dandruff:
10 minutes to peel the outer layer of Shallots and for making it a paste.
Tip: Immersing the shallots in water in advance would help you peel the outer layer really fast.
10 minutes to apply and massage over your hair.
Tip: Use you Hands.
60 minutes for the paste to really help you.
The steps:
A hand full of Shallots may be some 10 to 12 numbers of medium size. The count might vary based on the depth of your hair. You are the best judge here.
Grind it and make it a paste.
Using a forehead band would really help you avoid tears.
Apply it on your hair using your fingers in such a way that it reaches the scalp.
A gentle massage for 5 to 10 minutes to ensure that the extract is evenly spread.
Let the paste stay on your hair for an hour. You can listen to music or watch Television. But, the best option would be to speak to someone who is near to you directly and not over a cell phone.
Hit the rest room and take a bath with warm water. A real Hot water would lead to hair loss.
Use your regular shampoo (preferably a gentle shampoo with not much chemicals) to get rid of the aroma of shallots from your hair.
Dry your hair with a towel. If you are really used to a hair dryer try using the cool air option. Ensure that you don't blow hot air to your hair. Holding the dryer at a reasonable distance is always better.
It is a Process. Repeat the same thing the next time you head for a Head Bath. May be, in short time, you can get rid of dandruff permanently.

Share it with your friends if it really worked for you and you were able to get rid of dandruff.
That is the best way you can Thank me.
Keep Smiling.