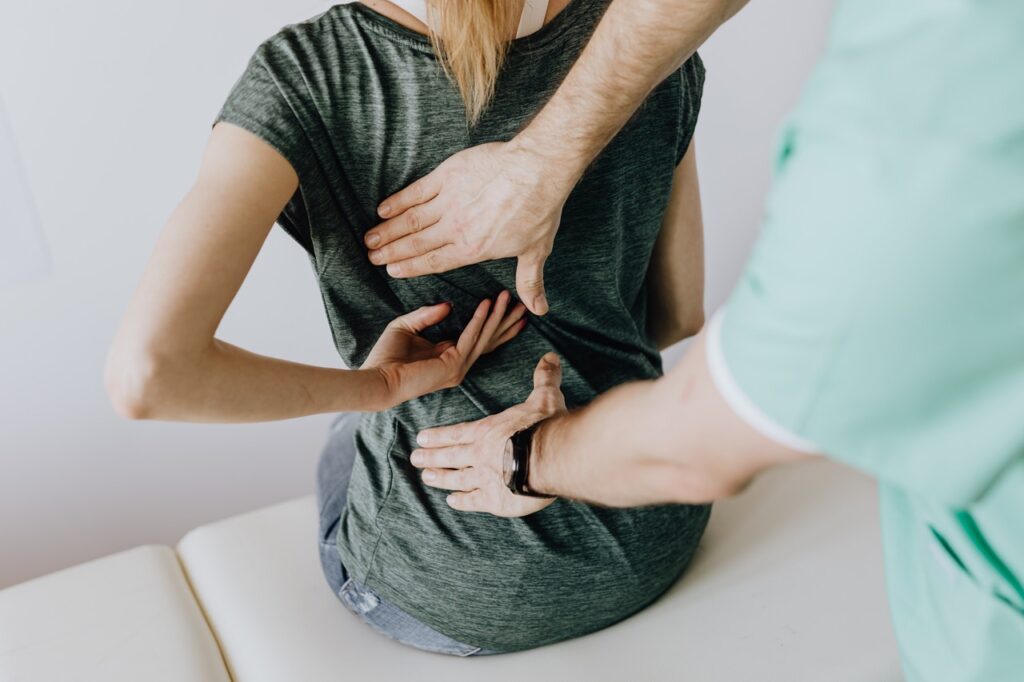 How To Manage Lower Back Pain With Japanese Towel Exercise?
Your Posture Plays A Role In Your
U

pper And

L

ower

B

ack

P

ain

Elderly people complaining about the back pain both lower back pain, and upper back pain is not new. But, the same complaints from the mid-aged people including me nowadays is not a good sign.
Image Credit: Photo by Karolina Grabowska from Pexels
People who stand for long at work, lift weights at work, those who drive long-distance trucks and buses, women who had undergone a c-section operation, a person with calcium deficiency are more prone to lower back pain and posture issues. This is an old story. The new fact is that lower back pain has become a usual complaint in adolescents and children's too.
This blog will give you some insights on the ways how we can correct our posture and approaches that we can follow to avoid lumbar and back pain.
Another thing that you might find on this blog is about the towel exercise. The posture correction exercise suggested by a Japanese doctor named Toshiki Fukutsudzi.
The Posture
Posture plays an important role in one's lower back pain. As automation and smart machines increase, the frequency of many individuals' exposure to sweat and body stretches is near to zero. Besides, the posture that an individual adapts to, due to external factors is a reason too for the lower back pain.
Factors That Affect Posture Leading To Upper/Lower Back Pain
Poor standing and sitting styles
Sitting with a wallet in the pant's back pocket
Lifting weights without bending the knees
Sitting or Sleeping on a non-firm couch and mattresses
Sitting on a non-ergonomically designed chair at work
 

Gazing at the cell phones for long straining the neck
and a lot more…
My First Encounter With Lower Back Pain
I had experienced severe lower back pain for the first time when I sat in front of my personal computer for a longer duration watching my favorite television series "Prison Break". A great series that led me to lower back pain for two days. Though the fault is mine, I blame the series, phew.
The Rescue Team At our Homes
There are a few things that come to our rescue when we experience harrowing lower back pain at home. Though we have some of these rescuers at home, the one best thing to do when suffering from upper/lower back pain is to lay down and take good rest.
A hot water bag
Ice Cubes
Pain reliever creams, roll on, and sprays
Pain Killer Pills
A floor mat to lay down
In case, you do not have these things handy at home then it is high time that you buy these.
Correct Your Posture
Doctors tell people with excessive lower back pain related to Disc Protrusion, and Disc Bulge to go for physiotherapy sessions right after the completion of medication. This is very much important as activities like traction etc aids in back posture and muscle recoveries.
It is very common for people to skip the physiotherapy sessions right after they feel alright. This is one big blunder that most of us do. I do agree that we skip going to the recovery center due to lack of time. But, at the cost of what?
Trust me, upper/lower back pains are not the cases we can compromise on. They are capable of showing us "HELL" if not taken care of.
How To Correct Postures Ourselves?
Doing simple things with caution can help us regain the correct posture of our body in case we had already messed it up.
Use a good pair of shoes for walking and running
Consider buying a firm Cot and Mattress that can support your spine and keep your posture in line.
As I had mentioned above, sit straight while working on a computer.
At Work:
The Chair:
If you think you need a footrest, raise a request to the admin. A small block of wood can meet the need.
If you find that your chair is causing your upper/lower back pain. Ask for a change of chair. If you have been provided with an ergonomic chair, get to know about it before you start using it.
Remember that small cushion that is located at the backrest of your chair? That can be adjusted up and down for better cushioning the lumbar part.
Do not compromise on your chair at work. Because that is where you end up staying most of your day. If you do not have a cushion, buy one to use on your chair.
Ensure that you remove the wallet from your back pocket and keep it aside. Ignoring that will contribute to disc posture changes.
Stretch Yourself:
With things like time on the floor etc. most of the employers and software companies want their employees to clock 9 hours plus at the office. With that becoming a practice and when on a pressuring task in hand we tend to sit on the chair for long as a potato. Do drink more water so you will have no option other than taking a walk to the restroom at least once in two hours.
At Home:
Try to hit the Gym (No Shortcuts Available). Be cautious while handling and lifting weights.
Do not carry heavy weights without bending your knees. Especially, those 30 liters drinking water can that you buy.
Buy a lumbar support cushion if you drive long-distance frequently by car or any similar automobiles.
Sleep on the floor without a pillow if you sense upper/lower back pain.
Hold your cell phone properly to avoid neck pain that leads to spine issues.
With Your Two Wheeler & Car:
Do not alter the seat cushions to match the bike's height with your height. Most of the automobile seating has been designed to avoid back pain. Altering that would not only invite troubles but will also burn your wallet.
Consider buying bikes that come with central suspension. Do not compromise here if possible. Riding over potholes and bad roads also trigger lower back pain. Drive safe and choose roads wisely.
Sometimes, we get foot pain while driving a car. This is because of the excessive distance between the feet vs. clutch, brake, and accelerate pedals. This foot pain will also have an impact on your back. Installing good floor mats inside the car to reduce the excessive height will help.
— All the above-used image credit goes to Pixabay —
The Towel Exercise
The towel exercise is a posture correction technique. It is not a weight-loss technique. Maybe the exercise does help in weight loss over a period of time but that might be because of the correct posture. I have not done this before but still writing about it as I feel there is nothing harm in doing this exercise.
Caution:
If you are already suffering from lower back pain, then I strongly suggest you speak to your doctor about doing this exercise beforehand.
Requirements:
A Floor Mat ( Yoga Mats can also be used ) and a bath towel.
Required Time – 2 to 3 minutes in the beginning.
Recommended time per day – 5 minutes.
Procedure:
Roll the bath towel to a cylindrical shape. Running a thread over the rolled towel will help in keeping the towel in the same shape.
Sit erect and place the rolled towel right at the back and lay down.
The towel should be kept exactly in line with our navel point.
Position your feet in shoulder-width apart and let your toes touch each other with an 8-10 inches gap between them.
Stretch your arms above the head with your palms facing down in such a way that the little finger in both the hands touch each other on top.
Stay for five minutes in the same posture.
Turn either to your left/right and get up gently.
Do not overdo. Start Slowly for lesser minutes and stay consistent.
A great visual representation has been created by the BRIGHT SIDE blog and it is available on Youtube. The above-shown pics with each step were taken from the BRIGHT SIDE. Here is the link.
Updated on 9/14/2020
References
https://www.dailymail.co.uk/femail/article-8260065/Japanese-towel-method-Toshiki-Fukutsudzi-promises-reduce-waist-transform-posture.html
https://food.ndtv.com/health/this-simple-japanese-weight-loss-technique-just-needs-a-towel-roll-1750737
https://www.lifehack.org/809897/how-to-lose-fat-and-gain-muscle